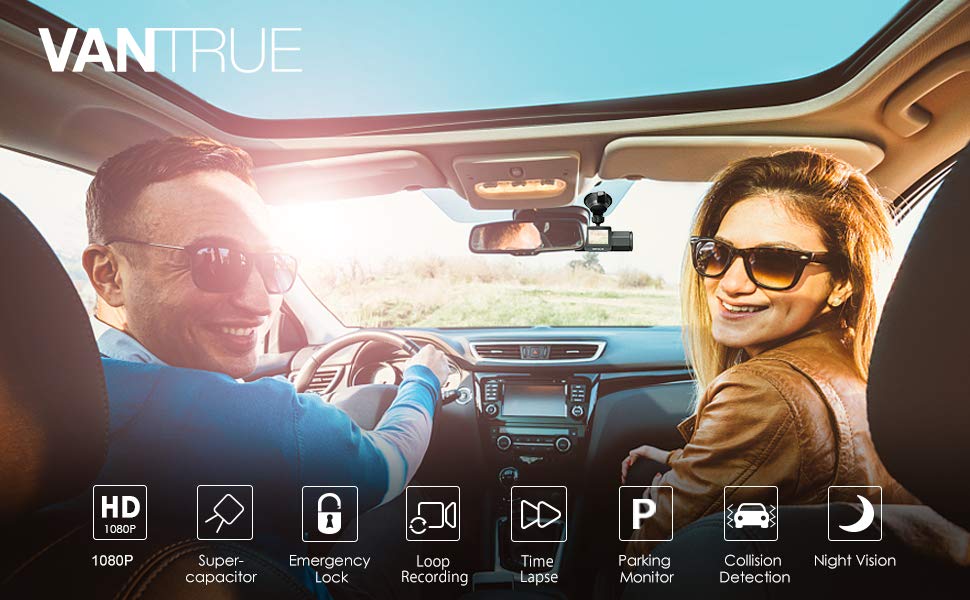 Features:
Super Capacitor & Heat Resistant

Built in a super-capacitor, which allows the front camera for car to record in both hot and cold conditions and provides a much longer functional life. This dash cam has a broader operating temperature. Extreme temperature resistance: Working Temperature -4–158°F (-20-70°C); Storage Temperature -22–176°F (-30 to 80°C).

1080P High Resolution & Auto LCD Off

Featuring a NOVATEK NT96655 processor and F/1.8, T2 dash camera captures the road front 160° to get the license plates cars as well as road signs without distortion at 1920x1080P@ 30fps or 1280X720P @30fps. Auto LCD off after the recording begins so you won't be disturbed by another glowing rectangle on your windshield.

Super Night Vision & Sony Sensor

Advanced Sony Exmor IMX323 sensor and NOVATEK NT96655 processor plus HDR technology which automatically balance the exposures to pick up greater detail in dark, greatly provides night vision at low light environment to make driving more safter and reliable at night.

24H Wave Guard Parking Monitoring

Equipped with Wave Guard Indicator, the camera for car will transmit microwave. When it detects movement in front of your car, the indicator is on and will start auto-recording. Please use the OBD power installation which has low voltage protection (only for 12V Vehicles) to achieve 24 hours' Monitoring.
G-sensor & Audio Recording

Variable sensitivity G-sensor auto detects a sudden shake/collision and emergency locks the footage to "Event File" to prevent that video from an overwrite. Built-in microphone/speaker for audio recording, you can also turn it off.

Time Lapse & H.264 Video

With time-lapse function, the car camera recorder will take static photos at the set time interval to create a video montage, which can save the SD card's space. With efficient H.264 video coding, the camera can ensure high-resolution clear images, and optimize storage space.

Seamless Loop Recording

Loop recording automatically overwrites the oldest recordings with the newest ones when the card is the maximum. The Loop Recording Time can be modified. Supports up to 256GB card, please format it to FAT32 before use.

Optional GPS Function

Optional GPS for you to track the driving route, location and speed on your computer.

To use GPS function, please buy an extra T2 GPS mount (Asin: B07CYW6JXW ).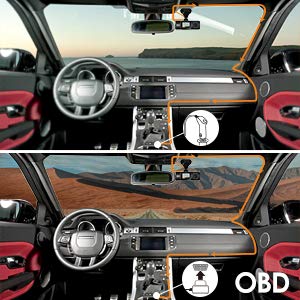 What's in the box?
1x Vantrue T2 super capacitor dash cam
1x 10ft car charger cable
1x OBD Cable
1x suction mount
1x 3ft USB data cable
1x User Manual
1x Quick Guide


Warm tips:
1. Before using, please format sd card to FAT32 on your camera.
2. If windshield mounts are illegal in your state, please buy an Adhesive Mounting Disk for adhering to dashboards.
3. If you need to use the Parking Monitor or the 24/7 (All Time) Protection function, please use the OBD power installation.
Please note: When inserted the memory card and connected to the power supply, it will enter the parking mode automatically and the LCD will not turn on. When you drive the car, the LCD screen will turn on.